Shared booklist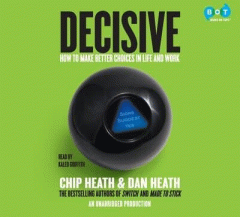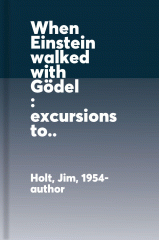 BKLYN BookMatch: Nonfiction Audiobooks dealing with Strategy, Psychology, and Philosophy
Current nonfiction on Finance, Technology, Behavioral Psychology and For a reader whose interests are psychology, philosophy, military strategy, and entrepreneurship. This list was created by a librarian with the Brooklyn Public Library for a reader. Would you like your own personalized list of reading suggestions? Visit Bklyn BookMatch here: bklynlibrary.org/bookmatch
6 items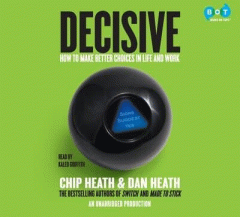 Chip & Dan Heath. |
The four principles that can help us to overcome our brains' natural biases to make better, more informed decisions -- in our lives, careers, families and organizations. In Decisive, Chip Heath and Dan Heath, the bestselling authors of Made to Stick and Switch, tackle the thorny problem of how to overcome our natural biases and irrational thinking to make better decisions, about our work, lives, companies and careers...
Daniel Lubetzky, founder and CEO of KIND. |
For the socially conscious reader of Blake Mycoskie's Start Something That Matters, Tony Hsieh's Delivering Happiness, and Howard Schultz's Onward comes an inspiring handbook for success in business, life, and the all-important task of building a more compassionate world--by the visionary CEO of KIND Healthy Snacks. When Daniel Lubetzky started KIND Healthy Snacks in 2004, he aimed to defy the conventional wisdom that snack bars could never be both tasty and healthy, convenient and wholesome. A decade later, the transformative power of the company's "AND" philosophy has resulted in an astonishing record of achievement. KIND has become the fastest-growing purveyor of healthy snacks in the country. Meanwhile, the KIND Movement--the company's social mission to make the world a little kinder--has sparked more than a million good deeds worldwide. In Do the KIND Thing, Lubetzky shares the revolutionary principles that have shaped KIND's business model and led to its success, while offering an unfiltered and intensely personal look into the mind of a pioneering social entrepreneur. Inspired by his father, who survived the Holocaust thanks to the courageous kindness of strangers, Lubetzky began his career handselling a sun-dried tomato spread made collaboratively by Arabs and Jews in the war-torn Middle East. Despite early setbacks, he never lost his faith in his vision of a "not-only-for-profit" business--one that sold great products and helped to make the world a better place. While other companies let circumstances force them into choosing between two seemingly incompatible options, people at KIND say "AND." At its core, this idea is about challenging assumptions and false compromises. It is about not settling for less and being willing to take greater risks, often financial. It is about learning to think boundlessly and critically, and choosing what at first may be the tougher path for later, greater rewards. By using illuminating anecdotes from his own career, and celebrating some past failures through the lessons learned from them, Lubetzky outlines his core tenets for building a successful business and a thriving social enterprise. He explores the value of staying true to your brand, highlights the importance of transparency and communication in the workplace, and explains why good intentions alone won't sell products. Engaging and inspirational, Do the KIND Thing shows how the power of AND worked wonders for one company--and could empower the next generation of social entrepreneurs to improve their bottom line and change the world.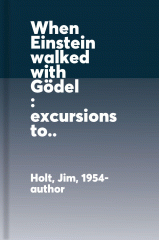 Holt, Jim, 1954- author. | EAUDIO
From Jim Holt, New York Times bestselling author of Why Does the World Exist?, comes When Einstein Walked with Gödel: Excursions to the Edge of Thought, an entertaining and accessible audiobook guide to the most profound scientific and mathematical ideas of recent centuriesDoes time exist? What is infinity? Why do mirrors reverse left and right but not up and down? In this scintillating collection, Holt explores the human mind, the cosmos, and the thinkers who've tried to encompass the latter with the former. With his trademark clarity and humor, Holt probes the mysteries of quantum mechanics, the quest for the foundations of mathematics, and the nature of logic and truth. Along the way, he offers intimate biographical sketches of celebrated and neglected thinkers, from the physicist Emmy Noether to the computing pioneer Alan Turing and the discoverer of fractals, Benoit Mandelbrot. In this audiobook, Holt offers a painless and playful introduction to many of our most beautiful but least understood ideas, from Einsteinian relativity to string theory, and also invites listeners to consider why the greatest logician of the twentieth century believed the U.S. Constitution contained a terrible contradiction--and whether the universe truly has a future.
Peterson, Jordan B., author, narrator. | EAUDIO
Jordan B. Peterson's Maps of Meaning is now available for the first time as an audio download!Why have people from different cultures and eras formulated myths and stories with similar structures? What does this similarity tell us about the mind, morality, and structure of the world itself? From the author of 12 Rules for Life: An Antidote to Chaos comes a provocative hypothesis that explores the connection between what modern neuropsychology tells us about the brain and what rituals, myths, and religious stories have long narrated. A cutting-edge work that brings together neuropsychology, cognitive science, and Freudian and Jungian approaches to mythology and narrative, Maps of Meaning presents a rich theory that makes the wisdom and meaning of myth accessible to the critical modern mind.
Kneale, Matthew. | EAUDIO
"Kneale's account is a masterpiece of pacing and suspense. Characters from the city's history spring to life in his hands." -The Sunday Times (London) Novelist and historian Matthew Kneale, a longtime resident of Rome, tells the story of the Eternal City-from the early Roman Republic through the Renaissance and the Reformation to Mussolini and the German occupation in World War Two-through pivotal moments that defined its history. Rome, the Eternal City. It is a hugely popular tourist destination with a rich history, famed for such sites as the Colosseum, the Forum, the Pantheon, St. Peter's, and the Vatican. In no other city is history as present as it is in Rome. Today visitors can stand on bridges that Julius Caesar and Cicero crossed; walk around temples in the footsteps of emperors; visit churches from the earliest days of Christianity. This is all the more remarkable considering what the city has endured over the centuries. It has been ravaged by fires, floods, earthquakes, and-most of all-by roving armies. These have invaded repeatedly, from ancient times to as recently as 1943. Many times Romans have shrugged off catastrophe and remade their city anew. Matthew Kneale uses seven of these crisis moments to create a powerful and captivating account of Rome's extraordinary history. He paints portraits of the city before each assault, describing what it looked like, felt like, smelled like and how Romans, both rich and poor, lived their everyday lives. He shows how the attacks transformed Rome-sometimes for the better. With drama and humor he brings to life the city of Augustus, of Michelangelo and Bernini, of Garibaldi and Mussolini, and of popes both saintly and very worldly. He shows how Rome became the chaotic and wondrous place it is today. Rome: A History in Seven Sackings offers a unique look at a truly remarkable city.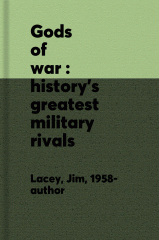 Lacey, Jim, 1958- author. | eAudiobook
Hannibal vs. Scipio. Grant vs. Lee. Rommel vs. Patton. The greatest battles, commanders, and rivalries of all time come to life in this engrossing guide to the geniuses of military history. "A compelling study of military leadership."--James M. McPherson, Pulitzer Prize-winning author of Battle Cry of Freedom Any meeting of genius may create sparks, but when military geniuses meet, their confrontations play out upon a vast panorama of states or civilizations at war, wielding the full destructive power of a mighty nation's armies. Gods of War is the first single-volume, in-depth examination of the most celebrated military rivalries of all time, and of the rare, world-changing battles in which these great commanders in history matched themselves against true equals. From Caesar and Pompey deciding the fate of the Roman Republic, to Grant and Lee battling for a year during the American Civil War, to Rommel and Montgomery and Patton meeting in battle after battle as Hitler strove for European domination, these match-ups and their corresponding strategies are among the most memorable in history. A thrilling look into both the generals' lives and their hardest-fought battles, Gods of War is also a thought-provoking analysis of the qualities that make a strong commander and a deep exploration of the historical context in which the contestants were required to wage war, all told with rousing narrative flair. And in a time when technology has made the potential costs of war even greater, it is a masterful look at how military strategy has evolved and what it will take for leaders to guide their nations to peace in the future.
About