Shared booklist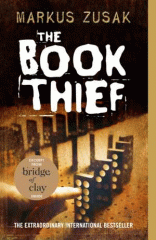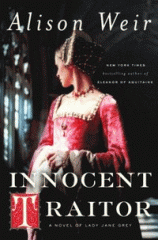 BKLYN BookMatch: Well-Researched Historical Fiction (England & WWII)
This list was created by a librarian with Brooklyn Public Library for a reader. The books on this list feature well-researched historical fiction concerning England and Word War II for fans of Hilary Mantel. Would you like your own personalized list of reading suggestions? Visit Bklyn BookMatch, here: www.bklynlibrary.org/bookmatch
9 items
Anthony Doerr. |
Blind Marie-Laure lives in Paris near the Museum of Natural History, where her father works. When she is twelve, the Nazis occupy Paris and father and daughter flee to Saint-Malo, where Marie-Laure's reclusive great uncle lives in a tall house by the sea. With them they carry what might be the museum's most valuable and dangerous jewel. In a mining town in Germany, Werner Pfennig, an orphan, grows up with his younger sister, enchanted by a crude radio they find that brings them news and stories from places they have never seen or imagined. Werner becomes an expert at building and fixing these crucial new instruments and is enlisted to use his talent to track down the resistance. Deftly interweaving the lives of Marie-Laure and Werner, Doerr illuminates the ways, against all odds, people try to be good to one another. (Kirkus Starred Review)
Margaret George. |
Now, in her magnificent work of storytelling and imagination Margaret George bring us Henry VIII's story as he himself might have told it, in memoirs interspersed with irreverent comments from his jester and confident, Will Somers. Brilliantly combining history, wit, dramatic narrative, and an extraordinary grasp of the pleasures and perils of power, this monumental novel shows us Henry the man more vividly than he has ever been seen before.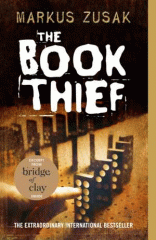 by Markus Zusak. |
When Death has a story to tell, you listen. . .It is 1939. Nazi Germany. The country is holding its breath. Death has never been busier, and will become busier still. Liesel Meminger is a foster girl living outside of Munich, who scratches out a meager existence for herself by stealing when she encounters something she can't resist–books. With the help of her accordion-playing foster father, she learns to read and shares her stolen books with her neighbors during bombing raids as well as with the Jewish man hidden in her basement. In superbly crafted writing that burns with intensity, award-winning author Markus Zusak, author of I Am the Messenger, has given us one of the most enduring stories of our time. (Kirkus Starred Review)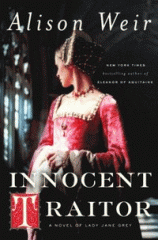 Alison Weir. |
The child of a scheming father and a ruthless mother, Jane Grey was born during the harrowingly turbulent period between Anne Boleyn's beheading and the demise of Jane's infamous great-uncle, King Henry VIII. With the premature passing of Jane's adolescent cousin, and Henry's successor, King Edward VI, comes a struggle for supremacy fueled by political machinations and lethal religious fervor. Unabashedly honest and exceptionally intelligent, Jane possesses a sound strength of character beyond her years that equips her to weather the vicious storm. And though she has no ambitions to rule, preferring to immerse herself in books and religious studies, she is forced to accept the crown, and by so doing sets off a firestorm of intrigue, betrayal, and tragedy.
Alison Weir. |
Bestselling author and acclaimed historian Alison Weir takes on what no fiction writer has done before: creating a dramatic six-book series in which each novel covers one of King Henry VIII's wives. In this captivating opening volume, Weir brings to life the tumultuous tale of Katherine of Aragon, Henry's first, devoted, and "true" queen. Sixteen-year-old Spanish princess Catalina is the youngest daughter of the powerful monarchs Ferdinand and Isabella. She is a coveted prize for a royal marriage to Arthur, Prince of Wales, but when tragedy strikes Catalina, now Princess Katherine, is betrothed to the future Henry VIII. The affection between Katherine and Henry is genuine, but forces beyond her control threaten to rend her marriage, and indeed the nation, apart. Henry has fallen under the spell of Katherine's maid of honor, Anne Boleyn. Now Katherine must be prepared to fight, to the end if God wills it, for her faith, her legitimacy, and her heart.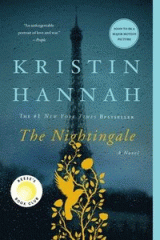 Hannah, Kristin, author. |
With courage, grace and powerful insight, bestselling author Kristin Hannah captures the epic panorama of WWII and illuminates an intimate part of history seldom seen: the women's war. The Nightingale tells the stories of two sisters, separated by years and experience, by ideals, passion and circumstance, each embarking on her own dangerous path toward survival, love, and freedom in German-occupied, war-torn France--a heartbreakingly beautiful novel that celebrates the resilience of the human spirit and the durability of women. It is a novel for everyone, a novel for a lifetime.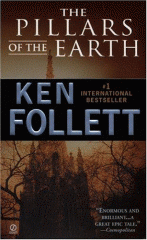 Ken Follett. |
Everything readers expect from Follett is here: intrigue, fast-paced action, and passionate romance. But what makes The Pillars of the Earth extraordinary is the time the twelfth century; the place feudal England; and the subject the building of a glorious cathedral. Follett has re-created the crude, flamboyant England of the Middle Ages in every detail. The vast forests, the walled towns, the castles, and the monasteries become a familiar landscape. The building of the cathedral, with the almost eerie artistry of the unschooled stonemasons, is the center of the drama. Around the site of the construction, Follett weaves a story of betrayal, revenge, and love, which begins with the public hanging of an innocent man and ends with the humiliation of a king.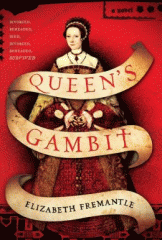 Elizabeth Fremantle. |
Widowed for the second time at age thirty-one Katherine Parr falls deeply for the dashing courtier Thomas Seymour and hopes at last to marry for love. However, obliged to return to court, she attracts the attentions of the ailing, egotistical, and dangerously powerful Henry VIII, who dispatches his love rival, Seymour, to the Continent. No one is in a position to refuse a royal proposal so, haunted by the fates of his previous wives—two executions, two annulments, one death in childbirth—Katherine must wed Henry and become his sixth queen. Katherine has to employ all her instincts to navigate the treachery of the court, yet her survival seems unlikely. Yet as she treads the razor's edge of court intrigue, she never quite gives up on love.
Conn Iggulden. |
The first book in #1 New York Times bestselling author Conn Iggulden's brilliant new historical series about two families who plunged England into a devastating, decades-long civil war. In 1437, the Lancaster king Henry VI ascends the throne of England after years of semi-peaceful regency. Named The Lamb, Henry is famed more for his gentle and pious nature than his father's famous battlefield exploits; already, his dependence on his closest men has stirred whispers of weakness at court. A secret truce negotiated with France to trade British territories for a royal bride Margaret of Anjou sparks revolts across English territory. The rival royal line, the House of York, sees the chaos brought on by Henry's weakness and with it not only opportunity in the monarch, but also their patriotic duty in ousting an ineffectual king. As storm clouds gather over England, King Henry and his supporters find themselves besieged abroad and at home. Who or what can save the kingdom before it is too late? (Kirkus Starred Review)
About