Shared booklist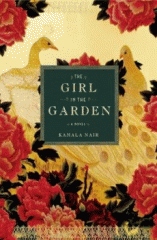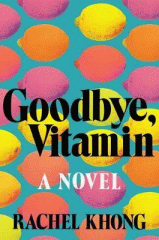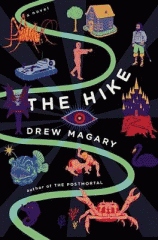 BKLYN BookMatch: Feel Good Fiction for Book Clubs
This list was created by a librarian with the Brooklyn Public Library for a reader interested in feel good fiction for their book club which had enjoyed such titles as A Man Called Ove, A Woman Is No Man, City of Girls, and Futuristic Violence and Fancy Suits. Would you like your own personalized list of reading suggestions? Visit Bklyn BookMatch here: bklynlibrary.org/bookmatch
5 items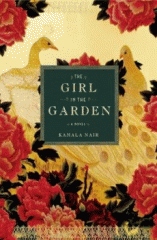 Kamala Nair. |
When Rakhee Singh is ten years old, her mother takes her from their Minnesota home to visit relatives in India. There she discovers a family secret that will haunt her. Only as a woman on the verge of marriage does Rakhee find the strength to confront the events of that summer and face the price of secrets.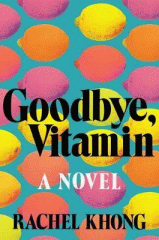 Rachel Khong. |
A few days after Christmas in a small suburb outside of L.A., pairs of a man's pants hang from the trees. The pants belong to Howard Young, a prominent history professor, recently diagnosed with Alzheimer's disease. Howard's wife, Annie, summons their daughter, Ruth. Freshly disengaged from her fiance and still broken up about it, feeling that life has not turned out quite the way she planned, thirty-year- old Ruth quits her job, and arrives home to find her parents' situation worse than she'd realized. Her father is erratically lucid and her mother, a devoted and creative cook, sees the sources of memory loss in every pot and pan. But as Howard's condition intensifies, the comedy in Ruth's situation takes hold, gently transforming her grief. She throws herself into caretaking: cooking dementia-fighting meals (a feast of jellyfish!), researching supplements, anything to reignite her father's once-notable memory. And when the university finally lets Howard go, Ruth and one of her father's handsome former students take their efforts to help Howard one step too far. Told in captivating glimpses and drawn from a deep well of insight, humor, and unexpected tenderness, Goodbye, Vitamin pilots through the loss, love, and absurdity of finding a one's footing in this life.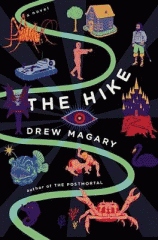 Drew Magary. |
When Ben, a suburban family man, takes a business trip to rural Pennsylvania, he decides to spend the afternoon before his dinner meeting on a short hike. Once he sets out into the woods behind his hotel, he quickly comes to realize that the path he has chosen cannot be given up easily. With no choice but to move forward, Ben finds himself falling deeper and deeper into a world of man-eating giants, bizarre demons, and colossal insects. On a quest of epic, life-or-death proportions, Ben finds help comes in some of the most unexpected forms, including a profane crustacean and a variety of magical objects, tools, and potions. Desperate to return to his family, Ben is determined to track down the "Producer," the creator of the world in which he is being held hostage and the only one who can free him from the path. At once bitingly funny and emotionally absorbing, Magary's novel is a remarkably unique addition to the contemporary fantasy genre, one that draws as easily from the world of classic folk tales as it does from video games. In The Hike, Magary takes readers on a daring odyssey away from our day-to-day grind and transports them into an enthralling world propelled by heart, imagination, and survival.
Klune, TJ, author. |
A magical island. A dangerous task. A burning secret. Linus Baker leads a quiet, solitary life. At forty, he lives in a tiny house with a devious cat and his old records. As a Case Worker at the Department in Charge Of Magical Youth, he spends his days overseeing the well-being of children in government-sanctioned orphanages. When Linus is unexpectedly summoned by Extremely Upper Management he's given a curious and highly classified assignment: travel to Marsyas Island Orphanage, where six dangerous children reside: a gnome, a sprite, a wyvern, an unidentifiable green blob, a were-Pomeranian, and the Antichrist. Linus must set aside his fears and determine whether or not they're likely to bring about the end of days. But the children aren't the only secret the island keeps. Their caretaker is the charming and enigmatic Arthur Parnassus, who will do anything to keep his wards safe. As Arthur and Linus grow closer, long-held secrets are exposed, and Linus must make a choice: destroy a home or watch the world burn. An enchanting story, masterfully told, The House in the Cerulean Sea is about the profound experience of discovering an unlikely family in an unexpected place-and realizing that family is yours.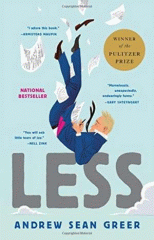 Andrew Sean Greer. |
Arthur Less begins an around-the-world-in-eighty-days fantasia in effort to avoid his ex-boyfriend's wedding. What could possibly go wrong? Arthur will almost fall in love in Paris, almost fall to his death in Berlin, barely escape to a Moroccan ski chalet from a Sahara sandstorm, accidentally book himself as the (only) writer-in-residence at a Christian Retreat Center in Southern India, and arrive in Japan too late for the cherry blossoms. In between: science fiction fans, crazed academics, emergency rooms, starlets, doctors, exes and, on a desert island in the Arabian Sea, the last person on Earth he wants to see. Somewhere in there: he will turn fifty. The second phase of life, as he thinks of it, falling behind him like the second phase of a rocket. There will be his first love. And there will be his last.
About