Shared booklist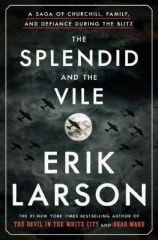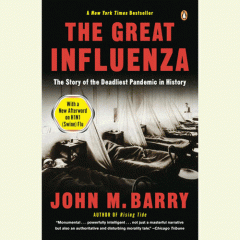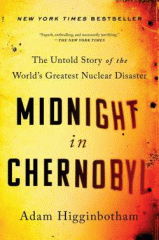 BKLYN BookMatch: Historical Reads
10 items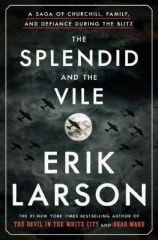 Larson, Erik, 1954- author. |
On Winston Churchill's first day as prime minister, Adolf Hitler invaded Holland and Belgium. Poland and Czechoslovakia had already fallen, and the Dunkirk evacuation was just two weeks away. For the next twelve months, Hitler would wage a relentless bombing campaign, killing 45,000 Britons. It was up to Churchill to hold his country together and persuade President Franklin Roosevelt that Britain was a worthy ally--and willing to fight to the end. In The Splendid and the Vile, Erik Larson shows how Churchill taught the British people "the art of being fearless." It is a story of political brinkmanship, but it's also an intimate domestic drama, set against the backdrop of Churchill's prime-ministerial country home, Chequers; his wartime retreat, Ditchley, where he and his entourage go when the moon is brightest and the bombing threat is highest; and of course 10 Downing Street in London. Drawing on diaries, original archival documents, and once-secret intelligence reports--some released only recently--Larson provides a new lens on London's darkest year through the day-to-day experience of Churchill and his family: his wife, Clementine; their youngest daughter, Mary, who chafes against her parents' wartime protectiveness; their son, Randolph, and his beautiful, unhappy wife, Pamela; Pamela's illicit lover, a dashing American emissary; and the advisers in Churchill's "Secret Circle," to whom he turns in the hardest moments.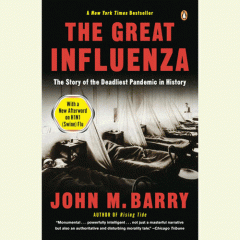 Barry, John M., 1947- | eAudiobook
At the height of WWI, history's most lethal influenza virus erupted in an army camp in Kansas, moved east with American troops, then exploded, killing as many as 100 million people worldwide. It killed more people in twenty-four months than AIDS killed in twenty-four years, more in a year than the Black Death killed in a century. But this was not the Middle Ages, and 1918 marked the first collision of science and epidemic disease. Magisterial in its breadth of perspective and depth of research and now revised to reflect the growing danger of the avian flu, The Great Influenza is ultimately a tale of triumph amid tragedy, which provides us with a precise and sobering model as we confront the epidemics looming on our own horizon. John M. Barry has written a new afterword for this edition that brings us up to speed on the terrible threat of the avian flu and suggest ways in which we might head off another flu pandemic.
Timothy Egan. |
The dust storms that terrorized the High Plains in the darkest years of the Depression were like nothing ever seen before or since. Timothy Egan's critically acclaimed account rescues this iconic chapter of American history from the shadows in a tour de force of historical reportage. Following a dozen families and their communities through the rise and fall of the region, Egan tells of their desperate attempts to carry on through blinding black dust blizzards, crop failure, and the death of loved ones. Brilliantly capturing the terrifying drama of catastrophe, Egan does equal justice to the human characters who become his heroes, "the stoic, long-suffering men and women whose lives he opens up with urgency and respect" (New York Times). In an era that promises ever-greater natural disasters, The Worst Hard Time is "arguably the best nonfiction book yet" (Austin Statesman Journal) on the greatest environmental disaster ever to be visited upon our land and a powerful cautionary tale about the dangers of trifling with nature.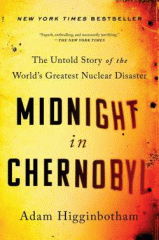 Higginbotham, Adam, author. |
April 25, 1986, in Chernobyl, was a turning point in world history. The disaster not only changed the world's perception of nuclear power and the science that spawned it, but also our understanding of the planet's delicate ecology. With the images of the abandoned homes and playgrounds beyond the barbed wire of the 30-kilometer Exclusion Zone, the rusting graveyards of contaminated trucks and helicopters, the farmland lashed with black rain, the event fixed for all time the notion of radiation as an invisible killer. Chernobyl was also a key event in the destruction of the Soviet Union, and, with it, the United States' victory in the Cold War. For Moscow, it was a political and financial catastrophe as much as an environmental and scientific one. With a total cost of 18 billion rubles—at the time equivalent to $18 billion—Chernobyl bankrupted an already teetering economy and revealed to its population a state built upon a pillar of lies. The full story of the events that started that night in the control room of Reactor No.4 of the V.I. Lenin Nuclear Power Plant has never been told—until now. Through two decades of reporting, new archival information, and firsthand interviews with witnesses, journalist Adam Higginbotham tells the full dramatic story, including Alexander Akimov and Anatoli Dyatlov, who represented the best and worst of Soviet life; denizens of a vanished world of secret policemen, internal passports, food lines, and heroic self-sacrifice for the Motherland. Midnight in Chernobyl, award-worthy nonfiction that reads like sci-fi, shows not only the final epic struggle of a dying empire but also the story of individual heroism and desperate, ingenious technical improvisation joining forces against a new kind of enemy.
Erik Larson. |
Murder, Magic, and Madness at the Fair That Changed America Erik Larson's gifts as a storyteller are magnificently displayed in this rich narrative of the master builder, the killer, and the great fair that obsessed them both. Two men, each handsome and unusually adept at his chosen work, embodied an element of the great dynamic that characterized America's rush toward the twentieth century. The architect was Daniel Hudson Burnham, the fair's brilliant director of works and the builder of many of the country's most important structures, including the Flatiron Building in New York and Union Station in Washington, D.C. The murderer was Henry H. Holmes, a young doctor who, in a malign parody of the White City, built his "World's Fair Hotel" just west of the fairgrounds—a torture palace complete with dissection table, gas chamber, and 3,000-degree crematorium. Burnham overcame tremendous obstacles and tragedies as he organized the talents of Frederick Law Olmsted, Charles McKim, Louis Sullivan, and others to transform swampy Jackson Park into the White City, while Holmes used the attraction of the great fair and his own satanic charms to lure scores of young women to their deaths. What makes the story all the more chilling is that Holmes really lived, walking the grounds of that dream city by the lake. The Devil in the White City draws the reader into a time of magic and majesty, made all the more appealing by a supporting cast of real-life characters, including Buffalo Bill, Theodore Dreiser, Susan B. Anthony, Thomas Edison, Archduke Francis Ferdinand, and others. In this book the smoke, romance, and mystery of the Gilded Age come alive as never before.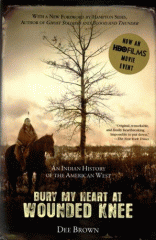 Dee Brown. |
Bury My Heart at Wounded Knee is Dee Brown's eloquent, fully documented account of the systematic destruction of the American Indian during the second half of the nineteenth century. A national bestseller in hardcover for more than a year after its initial publication, it has sold almost four million copies and has been translated into seventeen languages. For this elegant thirtieth-anniversary edition—published in both hardcover and paperback—Brown has contributed an incisive new preface. Using council records, autobiographies, and firsthand descriptions, Brown allows the great chiefs and warriors of the Dakota, Ute, Sioux, Cheyenne, and other tribes to tell us in their own words of the battles, massacres, and broken treaties that finally left them demoralized and defeated. A unique and disturbing narrative told with force and clarity, Bury My Heart at Wounded Knee changed forever our vision of how the West was really won.
Laura Hillenbrand. |
On a May afternoon in 1943, an Army Air Forces bomber crashed into the Pacific Ocean and disappeared, leaving only a spray of debris and a slick of oil, gasoline, and blood. Then, on the ocean surface, a face appeared. It was that of a young lieutenant, the plane's bombardier, who was struggling to a life raft and pulling himself aboard. So began one of the most extraordinary odysseys of the Second World War. The lieutenant's name was Louis Zamperini. In boyhood, he'd been a cunning and incorrigible delinquent, breaking into houses, brawling, and fleeing his home to ride the rails. As a teenager, he had channeled his defiance into running, discovering a prodigious talent that had carried him to the Berlin Olympics and within sight of the four-minute mile. But when war had come, the athlete had become an airman, embarking on a journey that led to his doomed flight, a tiny raft, and a drift into the unknown. Ahead of Zamperini lay thousands of miles of open ocean, leaping sharks, a foundering raft, thirst and starvation, enemy aircraft, and, beyond, a trial even greater. Driven to the limits of endurance, Zamperini would answer desperation with ingenuity; suffering with hope, resolve, and humor; brutality with rebellion. His fate, whether triumph or tragedy, would be suspended on the fraying wire of his will.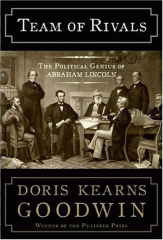 Doris Kearns Goodwin. |
On May 18, 1860, William H. Seward, Salmon P. Chase, Edward Bates, and Abraham Lincoln waited in their hometowns for the results from the Republican National Convention in Chicago. When Lincoln emerged as the victor, his rivals were dismayed and angry. Throughout the turbulent 1850s, each had energetically sought the presidency as the conflict over slavery was leading inexorably to secession and civil war. That Lincoln succeeded, Goodwin demonstrates, was the result of a character that had been forged by experiences that raised him above his more privileged and accomplished rivals. He won because he possessed an extraordinary ability to put himself in the place of other men, to experience what they were feeling, to understand their motives and desires. It was this capacity that enabled Lincoln as president to bring his disgruntled opponents together, create the most unusual cabinet in history, and marshal their talents to the task of preserving the Union and winning the war. We view the long, horrifying struggle from the vantage of the White House as Lincoln copes with incompetent generals, hostile congressmen, and his raucous cabinet. He overcomes these obstacles by winning the respect of his former competitors, and in the case of Seward, finds a loyal and crucial friend to see him through. This brilliant multiple biography is centered on Lincoln's mastery of men and how it shaped the most significant presidency in the nation's history.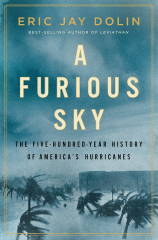 Dolin, Eric Jay, author. | Book
Hurricanes menace North America from June through November every year, each as powerful as 10,000 nuclear bombs. These megastorms will likely become more intense as the planet continues to warm, yet we too often treat them as local disasters and TV spectacles, unaware of how far-ranging their impact can be. As best-selling historian Eric Jay Dolin contends, we must look to our nation's past if we hope to comprehend the consequences of the hurricanes of the future. With A Furious Sky, Dolin has created a vivid, sprawling account of our encounters with hurricanes, from the nameless storms that threatened Columbus's New World voyages to the destruction wrought in Puerto Rico by Hurricane Maria. Weaving a story of shipwrecks and devastated cities, of heroism and folly, Dolin introduces a rich cast of unlikely heroes, such as Benito Vines, a nineteenth-century Jesuit priest whose innovative methods for predicting hurricanes saved countless lives, and puts us in the middle of the most devastating storms of the past, none worse than the Galveston Hurricane of 1900, which killed at least 6,000 people, the highest toll of any natural disaster in American history. Dolin draws on a vast array of sources as he melds American history, as it is usually told, with the history of hurricanes, showing how these tempests frequently helped determine the nation's course. Hurricanes, it turns out, prevented Spain from expanding its holdings in North America beyond Florida in the late 1500s, and they also played a key role in shifting the tide of the American Revolution against the British in the final stages of the conflict. As he moves through the centuries, following the rise of the United States despite the chaos caused by hurricanes, Dolin traces the corresponding development of hurricane science, from important discoveries made by Benjamin Franklin to the breakthroughs spurred by the necessities of the World War II and the Cold War. Yet after centuries of study and despite remarkable leaps in scientific knowledge and technological prowess, there are still limits on our ability to predict exactly when and where hurricanes will strike, and we remain terribly vulnerable to the greatest storms on earth. A Furious Sky is, ultimately, a story of a changing climate, and it forces us to reckon with the reality that as bad as the past has been, the future will probably be worse, unless we drastically reimagine our relationship with the planet.
Urbina, Ian, author. |
There are few remaining frontiers on our planet. But perhaps the wildest, and least understood, are the world's oceans: too big to police, and under no clear international authority, these immense regions of treacherous water play host to rampant criminality and exploitation. Traffickers and smugglers, pirates and mercenaries, wreck thieves and repo men, vigilante conservationists and elusive poachers, seabound abortion providers, clandestine oil-dumpers, shackled slaves and cast-adrift stowaways -- drawing on five years of perilous and intrepid reporting, often hundreds of miles from shore, Ian Urbina introduces us to the inhabitants of this hidden world. Through their stories of astonishing courage and brutality, survival and tragedy, he uncovers a globe-spanning network of crime and exploitation that emanates from the fishing, oil and shipping industries, and on which the world's economies rely. Both a gripping adventure story and a stunning expose, this unique work of reportage brings fully into view for the first time the disturbing reality of a floating world that connects us all, a place where anyone can do anything because no one is watching.
About