Shared booklist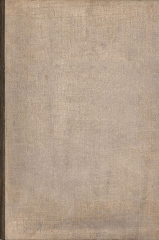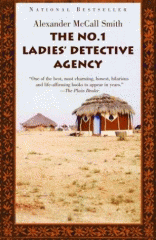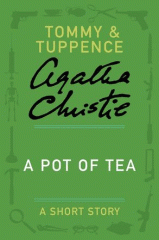 BKLYN BookMatch: And that's the tea
This list was created by a librarian with the Brooklyn Public Library for a reader. Would you like your own personalized list of reading suggestions? Visit Bklyn BookMatch, here: www.bklynlibrary.org/bookmatch
12 items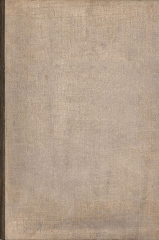 Kawabata, Yasunari, 1899-1972. |
While attending a traditional tea ceremony in the aftermath of his parents' deaths, Kikuji encounters his father's former mistress, Mrs. Ota. At first Kikuji is appalled by her indelicate nature, but it is not long before he succumbs to passion—a passion with tragic and unforeseen consequences, not just for the two lovers, but also for Mrs. Ota's daughter, to whom Kikuji's attachments soon extend. Death, jealousy, and attraction convene around the delicate art of the tea ceremony, where every gesture is imbued with profound meaning.
Pym, Barbara. |
Mildred Lathbury is a clergyman's daughter and a mild-mannered spinster in 1950s England. She is one of those "excellent women," the smart, supportive, repressed women who men take for granted. As Mildred gets embroiled in the lives of her new neighbors--anthropologist Helena Napier and her handsome, dashing husband, Rocky, and Julian Malory, the vicar next door--the novel presents a series of snapshots of human life as actually, and pluckily, lived in a vanishing world of manners and repressed desires.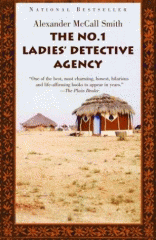 McCall Smith, Alexander, 1948- |
Precious Ramotswe has only just set up shop as Botswana's No.1 (and only) lady detective when she is hired to track down a missing husband, uncover a con man, and follow a wayward daughter. However, the case that tugs at her heart, and lands her in danger, is a missing eleven-year-old boy, who may have been snatched by witch doctors.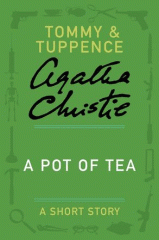 Christie, Agatha, 1890-1976. |
The Beresfords meet their first client, a man whose secret affair with a shopgirl goes terribly awry when she disappears. Tommy assures him they will find her within twenty-four hours, though it is by no means certain that they will meet this impossible deadline.
Christie, Agatha, 1890-1976. |
A grand treasure for fans of the grande dame of mystery, this collection brings together nine rare and brilliant Christie tales of murder and detection that span nearly half a century of storytelling genius.
Erickson, Alex. |
Mystery lovers have descended on Pine Hills for this year s book club competition, to be held at Krissy Hancock s bookstore cafe. But the killer in their midst seems determined to outwit all the armchair sleuths and send Krissy to the remainder bin forever. Just before two dueling book clubs are set to square off at Death by Coffee, one of the competitors turns up dead bludgeoned with the silver teapot that was to serve as the prize. Suspicion immediately falls on Krissy, who was seen skulking around town in dark clothes on the night of the murder. To clear her name and find the real killer, Krissy turns to an old flame, Officer Paul Dalton. But even Paul can t ignore the trail of evidence that seems to point in her direction. And with Krissy s personal nemesis, Officer John Buchannan, working overtime to pin the murder on her, it will take an amazing feat of detective work to close the book for good on an elusive killer. . ."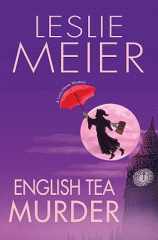 Meier, Leslie. |
Between a busy family and her duties as a reporter for the Tinker's Cove Pennysaver, Lucy Stone could use a break. So when a friend tells her about a trip to England sponsored by Winchester College, she jumps at the chance for a girls getaway. But when tour leader Professor George Temple dies mid-flight after an asthma attack, Lucy's glad she packed her sleuthing skills. . . In London, Professor Quentin Rea, a ladies' man and former flirt of Lucy's, arrives to take over the tour—and she finds that while his hairline has receded, his amorous intentions have not. Lucy also begins to notice peculiar behavior among other members of the group. And when she discovers all of them have pasts connected to the late Professor Temple, she suspects his death was an elaborate act of revenge. Then another tour member dies, and Lucy is suddenly ensnared in a daring scheme that could lead her to a mastermind of murder—or make her the next victim. . .
Crawford, Isis, author. |
Catering sisters Bernie and Libby Simmons are helping put on an elaborate tea party for an opening night gala fundraiser. It's quite a to-do for the quaint town of Longely, New York, especially when the billionaire behind the event drops dead . .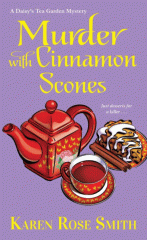 Smith, Karen Rose, author. |
Book 2 in Daisy's Tea Garden Mysteries Series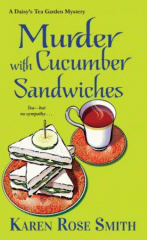 Smith, Karen Rose, author. |
Book 3 Daisy's Tea Garden Mysteries Series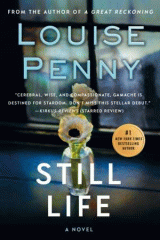 Penny, Louise, author. |
As the early morning mist clears on Thanksgiving Sunday, the homes of Three Pines come to life - all except one… To locals, the village is a safe haven. So they are bewildered when a well-loved member of the community is found lying dead in the maple woods. Surely it was an accident - a hunter's arrow gone astray. Who could want Jane Neal dead? In a long and distinguished career with the Sûreté du Quebec, Chief Inspector Armand Gamache has learned to look for snakes in Eden. Gamache knows something dark is lurking behind the white picket fences, and if he watches closely enough, Three Pines will begin to give up its secrets…