Shared booklist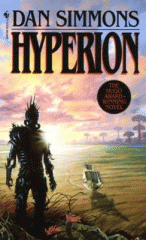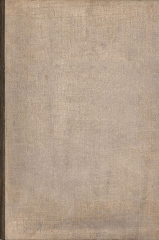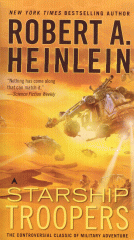 BKLYN BookMatch Sci-Fan-tastic!
This list was created by a librarian with the Brooklyn Public Library for a reader. Would you like your own personalized list of reading suggestions? Visit Bklyn BookMatch here: www.bklynpubliclibrary.org/bookmatch
14 items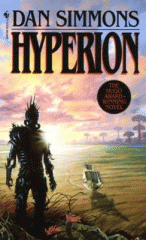 Dan Simmons. |
Hyperion is the tale of seven people who make a pilgrimmage to a terrifying creature called the Shrike in an attempt to save mankind. Epic sci-fi in the vein of Dune.
Cixin Liu ; translated by Ken Liu. |
Set against the backdrop of China's Cultural Revolution, a secret military project sends signals into space to establish contact with aliens. An alien civilization on the brink of destruction captures the signal and plans to invade Earth. Meanwhile, on Earth, different camps start forming, planning to either welcome the superior beings and help them take over a world seen as corrupt, or to fight against the invasion. Again, Dune is the reference here in terms of scope and political action.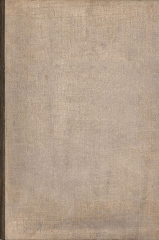 Urcula K. Le Guin. |
A bleak moon settled by utopian anarchists, Anarres has long been isolated from other worlds, including its mother planet, Urras—a civilization of warring nations, great poverty, and immense wealth. Now Shevek, a brilliant physicist, is determined to reunite the two planets, which have been divided by centuries of distrust. More thoughtful, political sci-fi.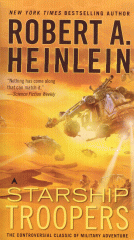 Robert A. Heinlein. |
In one of Robert Heinlein's most controversial bestsellers, a recruit of the future goes through the toughest boot camp in the Universe--and into battle with the Terran Mobile Infantry against mankind's most frightening enemy.
Tad Wlliams. |
A war fueled by the dark powers of sorcery is about to engulf the peaceful land of Osten Ard--for Prester John, the High King, slayer of the dread dragon Shurakai, lies dying. And with his death, an ancient evil will at last be unleashed, as the Storm King, undead ruler of the elvishlike Siti, seeks to regain his lost realm through a pact with one of human royal blood. A classic fantasy epic that serves as a link between Tolkien and current fantasy epics.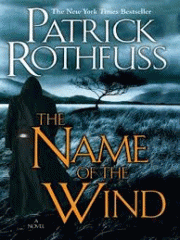 Patrick Rothfuss. |
Told in Kvothe's own voice, this is the tale of the magically gifted young man who grows to be the most notorious wizard his world has ever seen. The intimate narrative of his childhood in a troupe of traveling players, his years spent as a near-feral orphan in a crime-ridden city, his daringly brazen yet successful bid to enter a legendary school of magic, and his life as a fugitive after the murder of a king form a gripping coming-of-age story unrivaled in recent literature.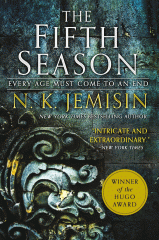 N. K. Jemisin. |
Across the heartland of the world's sole continent, a great red rift has been been torn which spews ash enough to darken the sky for years. Or centuries. But this is the Stillness, a land long familiar with struggle, and where orogenes -- those who wield the power of the earth as a weapon -- are feared far more than the long cold night.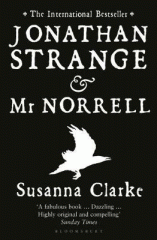 Susanna Clarke ; illustrations by Portia Rosenberg. |
In nineteenth-century England, all is going well for rich, reclusive Mr Norell, who has regained some of the power of England's magicians from the past, until a rival magician, Jonathan Strange, appears and becomes Mr Norrell's pupil. Based on your interest in Neil Gaiman's work, and on fantasy with political and historical themes.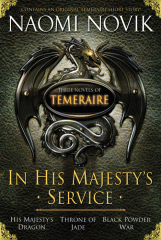 Naomi Novik. |
Aerial combat brings a thrilling new dimension to the Napoleonic Wars as valiant warriors rise to Britain's defense by taking to the skies ... not aboard aircraft but atop the mighty backs of fighting dragons. When HMS Reliant captures a French frigate and seizes its precious cargo, an unhatched dragon egg, fate sweeps Capt. Will Laurence from his seafaring life into an uncertain future--and an unexpected kinship with a most extraordinary creature. More alt-history fantasy, first in a solid series.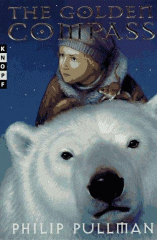 by Philip Pullman. |
Accompanied by her daemon, Lyra Belacqua sets out to prevent her best friend and other kidnapped children from becoming the subject of gruesome experiments in the Far North.
Garth Nix. |
Sent to a boarding school in Ancelstierre as a young child, Sabriel has had little experience with the random power of Free Magic or the Dead who refuse to stay dead in the Old Kingdom. But during her final semester, her father, the Abhorsen, goes missing, and Sabriel knows she must enter the Old Kingdom to find him.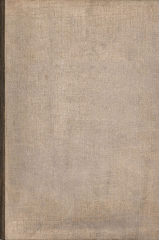 Terry Pratchett. |
I'm assuming that you are aware of Terry Pratchett based on your reading of Neil Gaiman, but in case you are not, this is my favorite of his books. Satirical fantasy. Brutha, a simple man leading a quiet life tending his garden, finds his life irrevocably changed when his god, speaking to him through a tortoise, sends him on a mission of peace.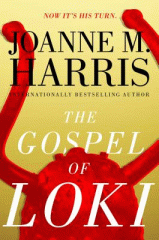 Joanne M. Harris. |
Trickster god Loki describes the rise and fall of the gods of the Norse, detailing how he left Chaos to serve Odin until the fall of Asgard. Based on your interest in Anansi Boys, this might make you laugh.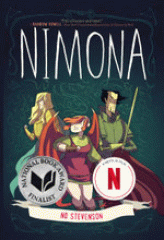 Noelle Stevenson. |
Nimona is an impulsive young shapeshifter with a knack for villainy. Lord Ballister Blackheart is a villain with a vendetta. As sidekick and supervillain, Nimona and Lord Blackheart are about to wreak some serious havoc. Their mission: prove to the kingdom that Sir Ambrosius Goldenloin and his buddies at the Institution of Law Enforcement and Heroics aren't the heroes everyone thinks they are.