Shared booklist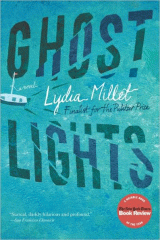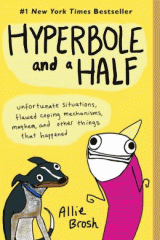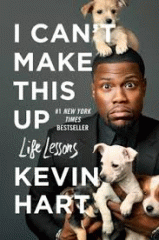 BKLYN Bookmatch: For Fans of Kurt Vonnegut, Dan Harmon, and Motivational Memoirs
This list was created by a librarian with the Brooklyn Public Library for a fan of Kurt Vonnegut, Dan Harmon (Rick & Morty, Community), and motivational self-help books like those of Brene Brown. Would you like your own personalized list of reading suggestions? Visit Bklyn BookMatch here: bklynlibrary.org/bookmatch
7 items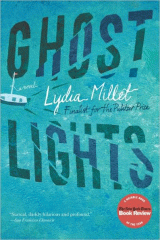 Millet, Lydia, 1968- | eBook
Ghost Lights stars an IRS bureaucrat named Hal—a man baffled by his wife's obsession with her missing employer. In a moment of drunken heroism, Hal embarks on a quest to find the man, embroiling himself in a surreal tropical adventure (and an unexpected affair with a beguiling German woman). Ghost Lights is Lydia Millet at her best—beautifully written, engaging, full of insight into the heartbreaking devotion of parenthood and the charismatic oddity of human behavior.
Magary, Drew. | eBook
When Ben, a suburban family man, takes a business trip to rural Pennsylvania, he decides to spend the afternoon before his dinner meeting on a short hike. Once he sets out into the woods behind his hotel, he quickly comes to realize that the path he has chosen cannot be given up easily. With no choice but to move forward, Ben finds himself falling deeper and deeper into a world of man-eating giants, bizarre demons, and colossal insects. On a quest of epic, life-or-death proportions, Ben finds help comes in some of the most unexpected forms, including a profane crustacean and a variety of magical objects, tools, and potions. Desperate to return to his family, Ben is determined to track down the "Producer," the creator of the world in which he is being held hostage and the only one who can free him from the path. At once bitingly funny and emotionally absorbing, Magary's novel is a remarkably unique addition to the contemporary fantasy genre, one that draws as easily from the world of classic folk tales as it does from video games. In The Hike, Magary takes readers on a daring odyssey away from our day-to-day grind and transports them into an enthralling world propelled by heart, imagination, and survival.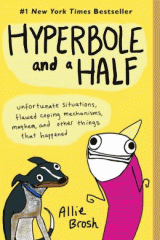 Brosh, Allie. | eBook
Brosh has been an Internet sensation for years with literally thousands of fans following her scribbled illustrations on her blog. She has won over readers and stalkers alike with her honest and stark humor and her fun stories and rants. This book takes readers into not just the fun and fuzzy world of candied cakes and dumb dogs, but also into the brutally honest self-evaluation and exploration of its unique author. Always balancing the serious with the silly, the dark with the ridiculous, Brosh says the things we wish we could, admits the things we're ashamed of, and explores what we're afraid of, always with color and humor and, ultimately, with hope. And don't forget the scribbles!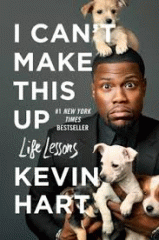 Hart, Kevin. | eBook
Superstar comedian and Hollywood box office star Kevin Hart turns his immense talent to the written word by writing some words. Some of those words include: the, a, for, above, and even even. Put them together and you have the funniest, most heartfelt, and most inspirational memoir on survival, success, and the importance of believing in yourself since Old Yeller. It begins in North Philadelphia. He was born an accident, unwanted by his parents. His father was a drug addict who was in and out of jail. His brother was a crack dealer and petty thief. And his mother was overwhelmingly strict, beating him with belts, frying pans, and his own toys. The odds, in short, were stacked against our young hero, just like the odds that are stacked against the release of a new book in this era of social media (where Hart has a following of over 100 million, by the way). But Kevin Hart, like Ernest Hemingway, JK Rowling, and Chocolate Droppa before him, was able to defy the odds and turn it around. In his literary debut, he takes the reader on a journey through what his life was, what it is today, and how he's overcome each challenge to become the man he is today.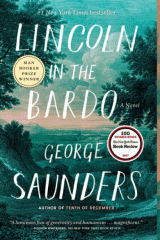 George Saunders. |
February 1862. The Civil War is less than one year old. President Lincoln's son Willie dies and is laid to rest in a Georgetown cemetery. Newspapers report that a grief-stricken Lincoln returned to the crypt several times alone to hold his boy's body. From that seed of historical truth, George Saunders spins an unforgettable story of familial love and loss that breaks free of its realistic, historical framework into a thrilling, supernatural realm both hilarious and terrifying. Willie Lincoln finds himself in a strange purgatory, where ghosts mingle, gripe, commiserate, quarrel, and enact bizarre acts of penance. Within this transitional state—called, in the Tibetan tradition, the bardo—a monumental struggle erupts over young Willie's soul.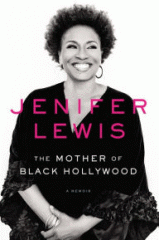 Lewis, Jenifer, author. | EBOOKS
The "Mega Diva" and legendary star of Black-ish looks back on her memorable journey to fame and the unforgettable life lessons she learned along the way. Told in the audacious voice her fans adore, Jenifer describes a road to fame made treacherous by dysfunction and undiagnosed mental illness. Yet, supported by loving friends and strengthened by "inner soldiers," Jenifer never stopped entertaining and creating. Written with no-holds-barred honesty, this gripping memoir is filled with insights gained through a unique life that offers a universal message: "Love yourself so that love will not be a stranger when it comes." Jenifer reveals her outrageous life story with lots of humor, a few regrets and most importantly, unbridled joy. Candid, warm and wonderfully inspiring, The Mother of Black Hollywood intimately reveals the heart of a woman who lives life to the fullest.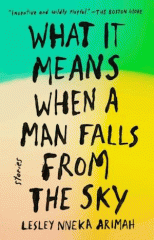 Lesley Nneka Arimah. |
A dazzlingly accomplished debut collection explores the ties that bind parents and children, husbands and wives, lovers and friends to one another and to the places they call home. In "Who Will Greet You at Home," a National Magazine Award finalist for The New Yorker, a woman desperate for a child weaves one out of hair, with unsettling results. In "Wild," a disastrous night out shifts a teenager and her Nigerian cousin onto uneasy common ground. In "The Future Looks Good," three generations of women are haunted by the ghosts of war, while in "Light," a father struggles to protect and empower the daughter he loves. And in the title story, in a world ravaged by flood and riven by class, experts have discovered how to "fix the equation of a person" - with rippling, unforeseen repercussions.
About