Shared booklist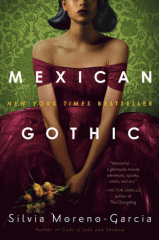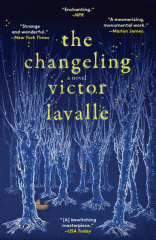 BKLYN BookMatch: Summer Thrillers
This list was created by a librarian with the Brooklyn Public Library for readers interested in mystery, crime, suspense, and thriller novels. Would you like your own personalized list of reading suggestions? Visit Bklyn BookMatch here: bklynlibrary.org/bookmatch
12 items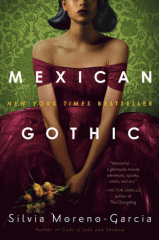 Moreno-Garcia, Silvia, author. | eBook
After receiving a frantic letter from her newlywed cousin begging for someone to save her from a mysterious doom, Noemí Taboada, a glamorous debutante from Mexico City, heads to High Place, a distant house in the Mexican countryside. She's not sure what she will find - her cousin's husband, a handsome Englishman, is a stranger, and Noemí knows little about the region. Her only ally in the inhospitable estate is the family's youngest son. Shy and gentle, he seems to want to help Noemí but might also be hiding dark knowledge of his family's past. For there are many secrets behind the walls of High Place. The family's once colossal wealth and faded mining empire kept them from prying eyes, but as Noemí digs deeper she unearths stories of violence and madness. And Noemí, mesmerized by the terrifying yet seductive world of High Place, may soon find it impossible to ever leave this enigmatic house behind.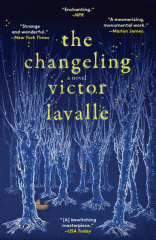 by Victor LaValle. |
When Apollo Kagwa's father disappeared, he left his son a box of books and strange recurring dreams. Now Apollo is a father himself—and as he and his wife, Emma, settle into their new lives as parents, exhaustion and anxiety start to take their toll. Apollo's old dreams return and Emma begins acting odd. At first Emma seems to be exhibiting signs of postpartum depression. But before Apollo can do anything to help, Emma commits a horrific act and vanishes. Thus begins Apollo's quest to find a wife and child who are nothing like he'd imagined. His odyssey takes him to a forgotten island, a graveyard full of secrets, a forest where immigrant legends still live, and finally back to a place he thought he had lost forever.
Bollen, Christopher, 1975- author. | EBOOKS
Arriving on the stunning Greek island of Patmos, Ian Bledsoe is broke, humiliated, and fleeing the fallout from his father's death. His childhood friend Charlie—rich, exuberant, and basking in the success of his new venture on the island—could be his last hope. At first Patmos appears to be a dream and Charlie readily offers Ian the lifeline he so desperately needs. But, like Charlie himself, this beautiful island conceals a darkness beneath, and it isn't long before the dream begins to fragment. When Charlie suddenly vanishes, Ian finds himself caught up in deception after deception. As he grapples with the turmoil left in his friend's wake, he is reminded of an imaginary game called Destroyers they invented as children—a game, he now realizes, they may have never stopped playing.
Pamela Samuels-Young. |
When attorneys Vernetta Henderson and Neddy McClain are tapped to take on the biggest case of their careers, they are less than thrilled about working together. Their strained relationship, however, is the least of their problems. Their socialite client--charged with the brutal murder of her husband--is demanding an immediate dismissal of the case. But a ruthless prosecutor is determined to make sure that doesn't happen. Forced to fight a common enemy, the two women close ranks and, in the process, develop a bond that sees them through the uncertainties of trial, the pain of betrayal and pressures neither could have imagined.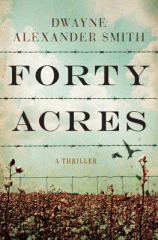 Dwayne Alexander Smith. |
Martin Grey, a smart, talented black lawyer from Queens, becomes friendly with a group of some of the most powerful, wealthy, and esteemed black men in America. They invite him for a weekend away from it all—no wives, no cell phones, no talk of business. But far from home and cut off from everyone he loves, he discovers a disturbing secret that challenges some of his deepest convictions. Martin discovers that his glittering new friends are part of a secret society dedicated to the preservation of the institution of slavery—but this time around, the black men are called "Master." Joining them seems to guarantee a future without limits; rebuking them almost certainly guarantees his death. Trapped inside a picture-perfect, make-believe world that is home to a frightening reality, Martin must find a way out that will allow him to stay alive without becoming the very thing he hates.
Tananarive Due. |
The home that belonged to Angela Toussaint's late grandmother is so beloved that townspeople in Sacajawea, Washington, call it the Good House. But that all changes one summer when an unexpected tragedy takes place behind its closed doors and the Toussaint's family history--and future--is dramatically transformed. Angela has not returned to the Good House since her son, Corey, died there two years ago. But now, Angela is finally ready to return to her hometown and go beyond the grave to unearth the truth about Corey's death. Could it be related to a terrifying entity Angela's grandmother battled seven decades ago? And what about the other senseless calamities that Sacajawea has seen in recent years? Has Angela's grandmother put a curse on the entire community?
Ch?ng, Yu-j?ng, 1966- | EBOOKS
Early one morning, twenty-six-year-old Yu-jin wakes up to a strange metallic smell, and a phone call from his brother asking if everything's all right at home - he missed a call from their mother in the middle of the night. Yu-jin soon discovers her murdered body, lying in a pool of blood at the bottom of the stairs of their stylish Seoul duplex. He can't remember much about the night before; having suffered from seizures for most of his life, Yu-jin often has trouble with his memory. All he has to go on is a faint impression of his mother calling his name. But was she calling for help? Or begging for her life? Thus begins Yu-jin's frantic three-day search to uncover what happened that night, and to finally learn the truth about himself and his family. A shocking and addictive psychological thriller, The Good Son explores the mysteries of mind and memory, and the twisted relationship between a mother and son, with incredible urgency.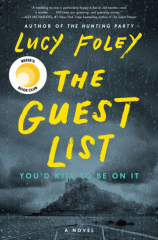 Foley, Lucy (Novelist), author. | eBook
On an island off the coast of Ireland, guests gather to celebrate two people joining their lives together as one. The groom: handsome and charming, a rising television star. The bride: smart and ambitious, a magazine publisher. It's a wedding for a magazine, or for a celebrity: the designer dress, the remote location, the luxe party favors, the boutique whiskey. The cell phone service may be spotty and the waves may be rough, but every detail has been expertly planned and will be expertly executed. But perfection is for plans, and people are all too human. As the champagne is popped and the festivities begin, resentments and petty jealousies begin to mingle with the reminiscences and well wishes.And then someone turns up dead. Who didn't wish the happy couple well? And perhaps more important, why?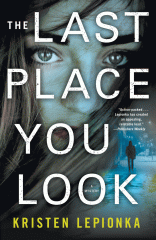 Lepionka, Kristen, author. | EBOOKS
Nobody knows what happened to Sarah Cook. The beautiful blonde teenager disappeared fifteen years ago, the same night her parents were brutally murdered in their suburban Ohio home. Her boyfriend Brad Stockton—black and from the wrong side of the tracks—was convicted of the murders and is now on death row. Though he's maintained his innocence all along, the clock is running out. His execution is only weeks away when his devoted sister insists she spied Sarah at an area gas station. Willing to try anything, she hires PI Roxane Weary to look at the case and see if she can locate Sarah. Brad might be in a bad way, but private investigator Roxane Weary isn't doing so hot herself. Still reeling from the recent death of her cop father in the line of duty, her main way of dealing with her grief has been working as little and drinking as much as possible. But Roxane finds herself drawn in to the story of Sarah's vanishing act, especially when she links the disappearance to one of her father's unsolved murder cases involving another teen girl. As her investigation gets darker and darker, Roxane will have to risk everything to find the truth. Lives depend on her cracking this case—hers included.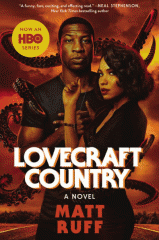 Matt Ruff. |
Chicago, 1954. When his father Montrose goes missing, twenty-two year old Army veteran Atticus Turner embarks on a road trip to New England to find him, accompanied by his Uncle George—publisher of The Safe Negro Travel Guide—and his childhood friend Letitia. On their journey to the manor of Mr. Braithwhite—heir to the estate that owned Atticus's great grandmother—they encounter both mundane terrors of white America and malevolent spirits that seem straight out of the weird tales George devours. At the manor, Atticus discovers his father in chains, held prisoner by a secret cabal named the Order of the Ancient Dawn—led by Samuel Braithwhite and his son Caleb—which has gathered to orchestrate a ritual that shockingly centers on Atticus. And his one hope of salvation may be the seed of his—and the whole Turner clan's—destruction. A chimerical blend of magic, power, hope, and freedom that stretches across time, touching diverse members of one black family, Lovecraft Country is a devastating kaleidoscopic portrait of racism—the terrifying specter that continues to haunt us today.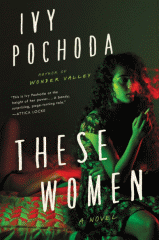 Pochoda, Ivy, author. | eBook
In her masterful new novel, Ivy Pochoda creates a kaleidoscope of loss, power, and hope featuring five very different women whose lives are steeped in danger and anguish. They're connected by one man and his deadly obsession, though not all of them know that yet. There's Dorian, still adrift after her daughter's murder remains unsolved; Julianna, a young dancer nicknamed Jujubee, who lives hard and fast, resisting anyone trying to slow her down; Essie, a brilliant vice cop who sees a crime pattern emerging where no one else does; Marella, a daring performance artist whose work has long pushed boundaries but now puts her in peril; and Anneke, a quiet woman who has turned a willfully blind eye to those around her for far too long. The careful existence they have built for themselves starts to crumble when two murders rock their neighborhood.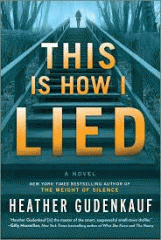 Gudenkauf, Heather, author. | eBook
Twenty-five years ago, the body of sixteen-year-old Eve Knox was found in the caves near her home in small-town Grotto, Iowa--discovered by her best friend, Maggie, and her sister, Nola. There were a handful of suspects, including her boyfriend, Nick, but without sufficient evidence the case ultimately went cold. For decades Maggie was haunted by Eve's death and that horrible night. Now a detective in Grotto, and seven months pregnant, she is thrust back into the past when a new piece of evidence surfaces and the case is reopened. As Maggie investigates and reexamines the clues, secrets about what really happened begin to emerge. But someone in town knows more than they're letting on, and they'll stop at nothing to keep the truth buried deep.
About