Shared booklist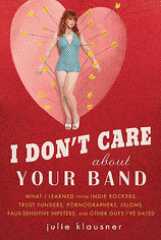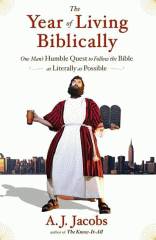 BKLYN BookMatch Humorous Memoirs and Non-Fiction
In the vein of David Sedaris, Wade Rouse, Slone Crosley
5 items
David Rakoff ; with illustrations by the author. |
1.To anyone who likes David Sedaris, I always recommend the late, great David Rakoff: Fraud : essays / David Rakoff ; with illustrations by the author: From This American Life alum David Rakoff comes a hilarious collection that single-handedly raises self-deprecation to an art form. Whether impersonating Sigmund Freud in a department store window during the holidays, climbing an icy mountain in cheap loafers, or learning primitive survival skills in the wilds of New Jersey, Rakoff clearly demonstrates how he doesn't belong–nor does he try to. In his debut collection of essays, Rakoff uses his razor-sharp wit and snarky humor to deliver a barrage of damaging blows that, more often than not, land squarely on his own jaw–hilariously satirizing the writer, not the subject. Joining the wry and the heartfelt, Fraud offers an object lesson in not taking life, or ourselves, too seriously.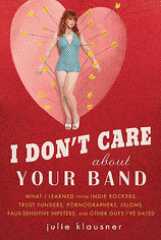 Julie Klausner. |
In the tradition of Cynthia Heimel and Chelsea Handler, and with the boisterous iconoclasm of Amy Sedaris, Julie Klausner's candid and funny debut I Don't Care About Your Band sheds light on the humiliations we endure to find love--and the lessons that can be culled from the wreckage.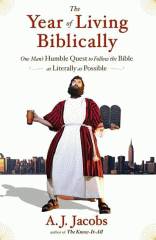 A.J. Jacobs. |
From the bestselling author of The Know-It-All comes a fascinating and timely exploration of religion and the Bible. A.J. Jacobs chronicles his hilarious and thoughtful year spent obeying―as literally as possible―the tenets of the Bible. Jacobs's extraordinary undertaking yields unexpected epiphanies and challenges. A book that will charm readers both secular and religious, The Year of Living Biblically is part Cliff Notes to the Bible, part memoir, and part look into worlds unimaginable. Thou shalt not be able to put it down.
Mike Birbiglia. |
Comedian Birbiglia, frequent contributor to public radio's This American Life and The Moth and author of the blog My Secret Public Journal, has the ability to remember a lot of things most of us would just as soon forget. Lucky for us, in this memoir Birbiglia recalls the events leading up to his earning the childhood nickname "Tinkles" (though you might be able to guess how it happened), and he tells the story of how, instead of bestowing his first kiss on his middle-school crush, he tossed his cookies at her feet. He's now, hopefully, cashing in on the demoralizing dues paid in his youth and early career as a stand-up comic—readers will recognize him from the late-night circuit and Comedy Central specials, and the book itself is an extension of his one-man show. Charming, brainier than he'd probably admit, and frequently poignant in spite of himself, Birbiglia throws together an alternately rollicking and warm handful of stories; the lengthy title story, of his struggle with a sleep disorder, is as fascinating as it is hilarious.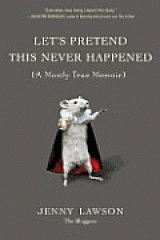 Jenny Lawson. |
In the irreverent Let's Pretend This Never Happened, Lawson's long-suffering husband and sweet daughter help her uncover the surprising discovery that the most terribly human moments—the ones we want to pretend never happened—are the very same moments that make us the people we are today. For every intellectual misfit who thought they were the only ones to think the things that Lawson dares to say out loud, this is a poignant and hysterical look at the dark, disturbing, yet wonderful moments of our lives.