Shared booklist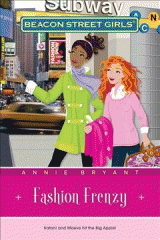 My Favourite BSG Books!
Beacon Street Girls is one of my favourite series. But I don't like ALL the books so here are a couple of my favourite books in the series! :)
6 items
by Annie Bryant. -- |
Avery heads off to Colorado to see her dad and is in for a suprise!
[by Annie Bryant ; illustration, Pamela M. Esty]. |
Charlotte goes to Paris, visits her best friend, looks for a cat and has a cool time!
About