Shared booklist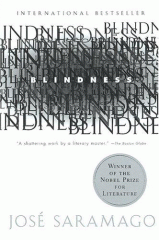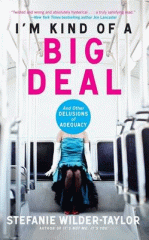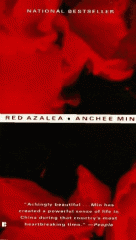 BKLYN BookMatch Read-alikes for Gabriel Garcia Marquez, Nicholas Sparks, Chelsea Handler and more
5 items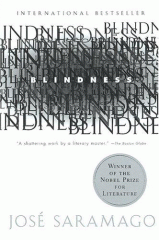 Josâe Saramago ; translated from the Portuguese by Giovanni Pontiero. |
If you like Gabriel Garcia Marquez, try...Blindness / José Saramago ; translated from the Portuguese by Giovanni Pontiero: A city is hit by an epidemic of "white blindness" which spares no one. Authorities confine the blind to an empty mental hospital, but there the criminal element holds everyone captive, stealing food rations and raping women. There is one eyewitness to this nightmare who guides seven strangers-among them a boy with no mother, a girl with dark glasses, a dog of tears-through the barren streets, and the procession becomes as uncanny as the surroundings are harrowing. A magnificent parable of loss and disorientation and a vivid evocation of the horrors of the twentieth century, Blindness has swept the reading public with its powerful portrayal of man's worst appetites and weaknesses-and man's ultimately exhilarating spirit. The stunningly powerful novel of man's will to survive against all odds, by the winner of the 1998 Nobel Prize for Literature.
Jeffrey Stepakoff. |
If you like Nicholas Sparks, try...Fireworks over Toccoa / Jeffrey Stepakoff: Lily Davis Woodward was married for just days before her husband was sent abroad to fight in World War II. Now he and the other solder's are returning, and Lily and the small town of Toccoa, Georgia, plan a big celebration. Jake Russo, a handsome Italian immigrant, also back from war, is responsible for the elaborate fireworks display the town commissioned. After a chance encounter in a starlit field, he steals Lily's heart and soul fulfilling her in ways her socially minded, upper-class family cannot, leaving her torn between love and duty.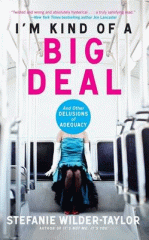 Stefanie Wilder-Taylor. |
If you like Chelsea Handler, try...I'm kind of a big deal : and other delusions of adequacy / Stefanie Wilder-Taylor.: Whether she's driving a limo for former Family Ties star Justine Bateman, dancing in the dark for a rarely seen Bob Dylan music video, or stalking a bachelor reject from TV's Love Connection, Stefanie Wilder-Taylor is kind of a big deal—at least in her own mind. Smart, screwy, and scathingly funny, her tell-all essays capture every cringe-worthy moment of her kind-of famous life. From bombing as a stand-up comic for born-again Christians, to winging it as a singing waitress in an Italian restaurant, to posting open letters to Angelina Jolie and David Hasselhoff, this unstoppable L.A. transplant refuses to give up on her dreams—no matter how ill-advised—and shows us a side of Hollywood better kept hidden. When it comes to funny women—unplugged and unleashed—they don't get any wilder than Stefanie Wilder-Taylor. . . .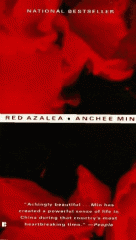 Anchee Min. |
If you like Angelas Ashes, try...Red azalea / Anchee Min.: Reveals the author's experiences in China during the final years under Mao and conveys the oppressive brutality that was endured as well as the resilience of human spirit that perpetuated survival throughout the nation.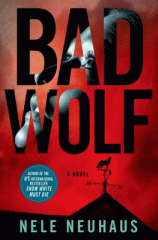 Nele Neuhaus ; translated by Steven T. Murray. |
If you like Girl with the Dragon Tattoo, try...Bad wolf / Nele Neuhaus: When they discover a link between the murder of a sixteen-year-old-girl and the rape of a popular TV reporter, Inspectors Pia Kirchhoff and Oliver von Bodenstein, investigating the rumor of a secret child pornography ring, expose a terrible secret that impacts their personal lives.