Shared booklist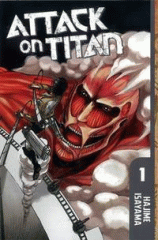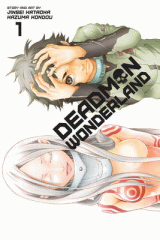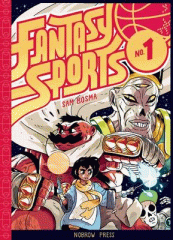 BKLYN BookMatch Action-packed manga with a twist
This list was created by a librarian with the Brooklyn Public Library for a reader. Would you like your own personalized list of reading suggestions? Visit Bklyn BookMatch here: www.bklynpubliclibrary.org/bookmatch
11 items
story and art by Eiichiro Oda ; [English adaptation by Lance Caselman ; translation, Andy Nakatani]. |
When Monkey D. Luffy accidentally gains the power to stretch like rubber at the cost of never being able to swim again, he and his crew of pirate wannabes set off in search of the "One Piece," the greatest treasure in the world.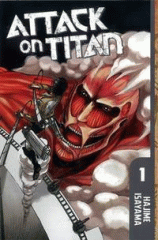 [Hajime Isayama] ; translated and adapted by Sheldon Drzka ; lettered by Steve Wands. |
For the past century, what's left of mankind has hidden in a giant, three-walled city, trapped in fear of the bizarre, giant humanoids known as the Titans. Little is known about where they came from or why they are bent on consuming human-kind, but the sudden appearance of an enormous Titan is about change everything.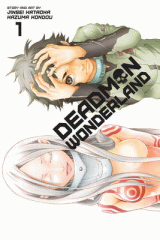 story & art by Jinsei Kataoka, Kazuma Kondou ; translation/Joe Yamazaki ; English adaptation/Stan!. |
Framed for the brutal murders of his classmates by the mysterious Red Man, middle-school student Ganta Igarashii finds himself sentenced to death in the bizarre and fatal theme park/prison known as Deadman Wonderland. The inmates of this insane penitentiary fight for survival every day to provide entertainment for the masses. Ganta is determined to survive Deadman Wonderland and clear his name, but the price may be his soul ...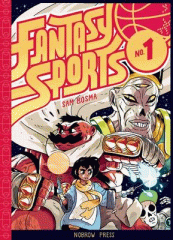 Sam Bosma. |
And something lighter - a young explorer and her musclebound friend go treasure hunting in a mummy's tomb - but if they want to get rich, they're going to have to best the mummy in a game of hoops! Can they trust their bandaged adversary to play by the rules? Or will they be stuck in the tomb forever?
by Magica Quartet ; illustrated by Hanokage. |
When a new girl joins her class, Madoka Kaname feels she recognizes the mysterious, dark-haired transfer student from one of her dreams...a dream where she is approached by a cat-like creature who offers Madoka an opportunity to change destiny. Madoka had always thought magic was the stuff of fantasy...until she sees the transfer student fighting with the very cat-being from her dream! This goes off the rails quickly and becomes quite unpredictable and dark.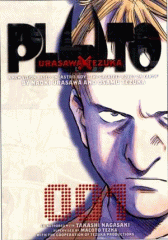 by Naoki Urasawa and Osamu Tezuka ; co-authored with Takashi Nagasaki ; translation, Jared Cook & Frederick L. Schodt. |
In a world where man and robots coexist, the powerful Swiss robot Mont Blanc has been destroyed. Elsewhere a key figure in a robot rights group is murdered. The two incidents appear to be unrelated...except for one very conspicuous clue - the bodies of both victims have been fashioned into some sort of bizarre collage complete with makeshift horns placed by the victims' heads.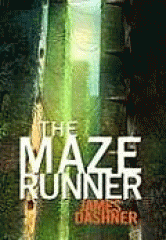 James Dashner. |
Sixteen-year-old Thomas wakes up with no memory in the middle of a maze and realizes he must work with the community in which he finds himself if he is to escape.
Pittacus Lore. |
In rural Ohio, friendships and a beautiful girl prove distracting to a fifteen-year-old who has hidden on Earth for ten years waiting to develop the Legacies, or powers, he will need to rejoin the other six surviving Garde members and fight the Mogadorians who destroyed their planet, Lorien.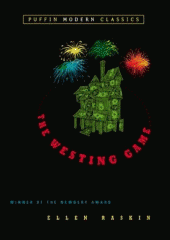 by Ellen Raskin. |
The mysterious death of an eccentric millionaire brings together an unlikely assortment of heirs who must uncover the circumstances of his death before they can claim their inheritance.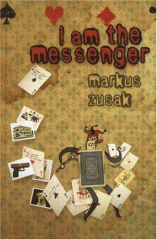 by Markus Zusak. |
After capturing a bank robber, nineteen-year-old cab driver Ed Kennedy begins receiving mysterious messages that direct him to addresses where people need help, and he begins getting over his lifelong feeling of worthlessness.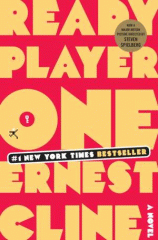 Ernest Cline. |
Along with millions of other world-wide citizens, Wade dreams of finding three keys left behind by James Halliday, the now-deceased creator of OASIS and the richest man to have ever lived. The keys are rumored to be hidden inside OASIS, and whoever finds them will inherit Halliday's fortune. But Halliday has not made it easy. And there are real dangers in this virtual world.