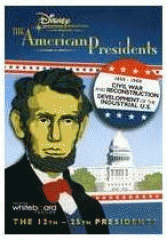 Title:
The American presidents.
Author:
Disney Educational Productions ; series producer, Sheppard Kaufman ; writers, Emily Simon, Davis Lester, Sheppard Kaufman, Dorothy Bourgeois ; editors, Dave Farr, Melissa Kaufman.
Please note
: This is informative record only. Your library does not have this item in its collection, therefore you cannot place a hold on it.