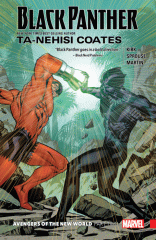 Title:
Black Panther. Book 5, Avengers of the New World, part 2 / Ta-Nehisi Coates, writers ; VC's Joe Sabino, letterer ; Laura Martin, Matt Milla, Chris Sotomayor color artists ; Brian Stelfreeze, Phil Noto, cover artists ; Leonard Kirk, Chris Sprouse, penciler
Author:
Coates, Ta-Nehisi, author.
Please note
: This is informative record only. Your library does not have this item in its collection, therefore you cannot place a hold on it.