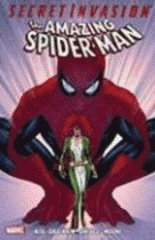 Title:
The amazing Spider-Man.
Author:
writer, Brian Reed ; pencils, Marco Santucci ; inks, Mark Pennington with Dave Meikis & Victor Olazaba ; colors, Jeremy Cox with John Kalisz, Chris Sotomayor & Andrew Crossley ; letters, Jared K. Fletcher. Amazing Spider-Man annual 2008 / writer, Marc Gug
Please note
: This is informative record only. Your library does not have this item in its collection, therefore you cannot place a hold on it.