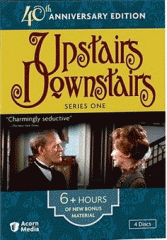 Title:
Upstairs downstairs.
Author:
series created by Sagitta Productions in association with Jean Marsh and Eileen Atkins ; writers, Fay Weldon ... [et al.] ; directors, Raymond Menmuir ... [et al.] ; producer, John Hawkesworth.
Please note
: This is informative record only. Your library does not have this item in its collection, therefore you cannot place a hold on it.