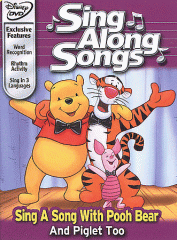 Title:
Sing a song with Pooh Bear and Piglet too
Author:
[Walt Disney Home Entertainment in association with TV Is OK Productions & 3Oh!5 Creative, Inc.] ; Disney ; producer, Harry Arends, Richard Teague ; writers, Bruce Talkington, Harry Arends.
Please note
: This is informative record only. Your library does not have this item in its collection, therefore you cannot place a hold on it.