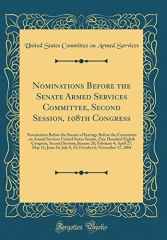 Title:
Nominations before the Senate Armed Services Committee, first session, 110th Congress : hearings before the Committee on Armed Services, United States Senate, One Hundred Tenth Congress, first session, on the nominations of Ltg. David H. Petraeus, USA; Ad
Author:
United States. Congress. Senate. Committee on Armed Services.
Please note
: This is informative record only. Your library does not have this item in its collection, therefore you cannot place a hold on it.