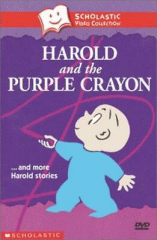 Title:
Harold and the purple crayon
Author:
a Weston Woods release ; Michael Sporn Animation, Inc. for Weston Woods Studios and Krâatkây film-Praha ; producers, Morton Schindel, Paul Gagne, William L. Synder [!] ; directors, David Piel, Gene Deitch, Michael Sporn.
Please note
: This is informative record only. Your library does not have this item in its collection, therefore you cannot place a hold on it.