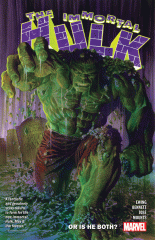 Title:
The immortal Hulk. Or Is He Both? Vol. 1, Or is he both?
Author:
Ewing, Al/ Bennett, Joe (ILT)/ Jose, Ruy (ILT)/ Mounts, Paul (ART)/ Petit, Cory (ILT)
Please note
: This is informative record only. Your library does not have this item in its collection, therefore you cannot place a hold on it.